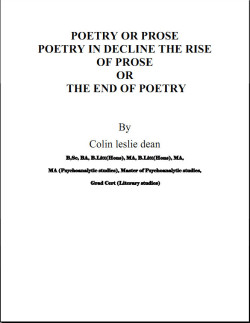 Some say poetry is not subject to fixed objective criteria but goes through fashions. Fact is poetry is defined to be structured this has been the accepted criteria of poetry for other cultures as well as since the beginnings of the western culture.
If the definition changes all the time to fashion then poetry as a category is meaningless I.E. THEN WE CANNOT COMPARE POETRY WRITTEN AT OTHER TIMES WITH A DIFFERENT DEFINITION TO TIMES WHERE THE DEFINITION OF POETRY IS DIFFERENT
If poetry due to fashion is unstructured you may just as well call everything poetry and do away with the term prose but then how do you distinguish say Shakespeare from a year olds poetry.
| | |
| --- | --- |
| Title | Poetry or prose poetry in decline the rise of prose or the end of poetry |
| Author | Dean, Colin Leslie |
| Published | Gamahucher Press, West Geelong, Vic, 2012 |
| Pages | 10 |
| Subject | Philosophy, Literary Criticism |
| ISBN | 91876347392 |
| Download | |