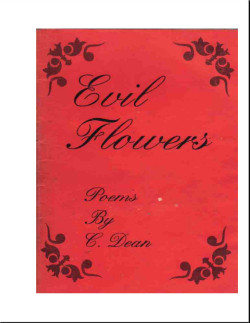 THE GARDEN
On mid morn day as I lay
neath a mossy tree within a forest deep
as butterflies and bees flurried away
I wondered whether I should up or stay
when sweet savoury scents on the wind did creep
upon my nostrils and lull me back to sleep.
The bright moon hung high and poured forth a silvery light
as I awoke and my feet alight.
Fragrant smells did upon the wind drift by
and lure me from where I did lie.
| | |
| --- | --- |
| Title | Evil flowers |
| Author | Dean, Colin Leslie & Van Rooyen, Diane |
| Published | Gamahucher Press, West Geelong, Vic, 1995 |
| Pages | 24 |
| Subject | Erotic poetry, Australian poetry |
| ISBN | 0646293249 |
| Download | |